We are excited to announce that our online will be managed by HydroBuilder.com This means lower shipping costs and ability to order all of your gardening needs from the premier online grow supply website!.
Click Here to order online now.
Our pots have a color-coded stitched upper rim to easily identify sizes while offering extra support and rigidity. Check out which features our exclusive family of fabric pots best suits your gardening needs below: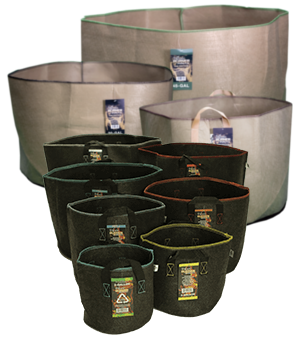 Fabric Burner Pots:
1-400 Gallon Highest Quality Fabric Pots
Spring Pot Burners are quickly becoming the number one smart pot choice for hobby and commercial growers looking for an optimal performance grow bag that air-prunes roots for faster plant growth and higher harvest yields.
While Burners lack the interwoven skeletal structure of our other fabric pot lines, they are constructed from a superior quality UV resistant fabric developed over years of trials, This unique fabric and density allows them to hold their shape for an easy gardening experience.
While most other fabric pots available are made from petroleum based polypropylene, Burner Pots are BPA Free / Heavy Metal Free handcrafted fabric pots are made from recycled plastic water bottles.
Burners are available in an exclusive dark gray and tan designed for optimal root temperature and growth. They are designed to endure washing and reuse however they're offered at a price that may make recycling an economical option. Discrete handles are standard on 3 gallon pots to 20 gallon..
Sequoia Spring Pots:
1 – 400 Gallon Grow Bags – Great For Raised Bed Gardening
The proprietary rigidity of the Spring Pot Sequoia is achieved by an interwoven rigid upper rim making them a quick and easy alternative for raised bed gardens. Forget the splinters and hours of carpentry. Spring Pot Sequoias stand on their own and are ready to fill in seconds.
The Sequoias are offered in tan and a unique dark grey UV resistant fabric is ideal for outdoor and greenhouse gardening as it provides the optimal root zone temperature by deflecting heat while resisting algae and moss buildup over time that decreases plant performance in other fabric grow bags.
Dark Grey Sequoias are available in 1 gallon to 25 gallon pot sizes and are the smart pot solution for small to medium sized plants. Sequoia sizes 2 gal to 20 gal pots come standard with durable handles for easy transport.
Our larger sized outdoor Sequoia tree pots are available in a durable UV resistant tan fabric designed to last for multiple growing seasons. Sequoia sizes 200 gallon to 400 gallon cylindrical raised fabric beds have vertical interwoven fiberglass poles to offer additional sidewall support.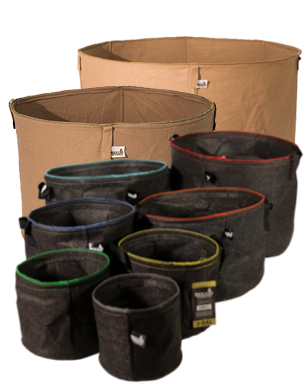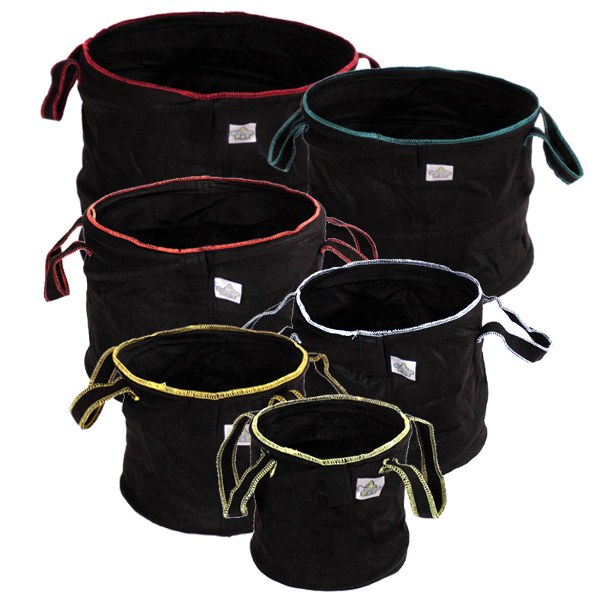 Classic Spring Pots:
2-25 Gallon Fabric Pots With a Spring
Spring Pot Classics are the top of the line fabric pot on the market. They are constructed with an internal plastic coated spring that pops up and supports the entire sidewall and upper rim of the plant container.
Classics hold open their shape allowing for easiest filling and watering. All sizes have double reinforced and double surge stitched rugged handles for effortless moving without damaging your plants. Spring Pot Classics are fully collapsible for easy storage, fully washable and reusable.
In addition to the unique skeletal spring that supports the sidewall and upper rim of the pot, the Classics have velcro tabs for branch tie downs for plant growth training and holding irrigation lines in place.
Spring Pot Classics also make the ultimate multipurpose carrying and storage device for whatever you can imagine.
You can easily place online orders for these amazing fabric grow pots that we create with the quality fabric to give the needful protection to your plants, allowing them to bloom at their full capacity.
Call us (415) 944-POTS (7687) or email us at info@springpot.com with any questions
Please fill out our wholesale account application HERE to apply for commercial, wholesale, or retail store pricing.