The Ultimate Indoor Vegetable Gardening Guide
If you are a new to indoor vegetable gardening, then read on, because this guide will help you grow the best vegetables, right from your own countertops, windowsills, sun decks and fabric pots!
Most people dream of picking their own herbs and vegetables, right from their windowsill to the dinner plate, but they don't even know where to begin. So for all new gardeners, outdoor gardeners or even those that have a little bit of experience, let our ultimate guide help you master your own indoor gardening easily and quickly!
Indoor vegetable gardens are excellent for many reasons. They are ideal for character lovers who have little backyard space or for all those looking to maintain their gardeners' habit heading into the winter season.
As hassle-free as interior gardening truly is, there are always recommendations you should pay attention to, ensuring that your interior vegetable garden looks and tastes as great as any outdoor garden can provide.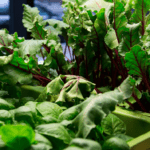 Practical tips to start indoor gardening
Indoor Gardening Tip #1
Determine which area of your house you would like to start a garden. You do not have to section off large areas, any compact area, like your windowsill, will do. As long as the plants get plenty of sunlight and regular water, where you garden will not be a problem.
Another choice could be to use plant sticks. Plant sticks will make incredible screens and they make moving easy, getting the crops exposed to the sunshine won't become an issue with plant sticks. Besides, you could be a little creative or environmental and make the sticks out found materials.
Indoor Gardening Tip #2
Prepare enough light. Light is very essential for indoor vegetable gardening. Plants that are grown indoor require plenty of light to grow and especially to produce a healthy harvest. Common house plants don't depend so much on proper lighting, but when gardening a plant to harvest, your plants will definitely need more light.
To get enough light to smaller plants, a big sunlit corner window corner is great, and if your home has a room similar to a conservatory, where windows reach the floor, even better! Because you can use the entire area just for growing plants.
Indoor Gardening Tip #3
Select proper storage containers. It will not matter if you go buy new containers, or get innovative and reuse containers that are available in the house, as long as the containers have holes for proper water drainage, most any container will be just fine.
Indoor Gardening Tip #4
Choose your garden well. We strongly recommend that you choose plants that can adapt to an indoor environment easily. Plants such as lettuce, cherry tomatoes and herbs, are all excellent examples of plants you can easily grow indoors.
For indoor gardens, choosing the plants is usually one of the most crucial points. While one plants may grow well in partial light, such as tomatoes, not all plants will thrive in the spaces you have to garden. Tomatoes are an easier indoor garden plant to grow because they sprout upward (usually) to reach the light and they don't need a lot of space. Just set them up with a trellis in the window and VOILA, plenty of fresh tomatoes to eat!
Besides tomatoes, herbs also make great indoor gardening plants and some will provide a natural fragrance to your home! Herbs usually like well drained soil, so don't overwater them or you could end up with a fungal issue, and always remember to provide them with enough oxygen to flourish. Most natural herbs will grow well in a simple pot on a sunny windowsill. Some of them, such as rosemary, mint and thyme or parsley, are designed for much less sunlight, perfect for slightly shaded places such as most kitchen countertops.
Root vegetables would not be a wise choice for indoor gardens because they usually need a deeper container to grow in, so they are not so simple but if you have a patio or space that can hold huge containers, it might be possible to grow even root vegetables in an indoor environment.
Indoor Gardening Tip #5
Prepare the soil. Your soil should include plant or animal compost and fertilizers, as well as equal amounts of perlite and vermiculite to assist in the retention of air and water. If you set up your soil correctly, you should be able to grow your indoor plants all year long.
Indoor Gardening Tip #6
Pesky pests. Whenever we grow a plant from a seed, most people won't have a significant problem with pests, however, that scenario changes whenever we purchase plants from an unknown source. It is always wise to inspect plants purchased commercially and get to know your grower, but even then, microscopic issues might still arise.
Consider hydroponic growing
If you want to have a rigorous growing method which allows total control over the water cycle, light, and nutrition of your plants, hydroponic gardening could be a great solution for your indoor vegetable gardening. Hydroponic equipment does not have to be very expensive, you can use grow lights or augmented daylight, and simple beginner kits are designed for the novice indoor gardener.
You will be successful!
No matter where you choose to garden indoors, or what you choose to harvest, you and your family will likely receive a lot of joy from what indoor vegetable gardening provides. The are many commonly known positive effects of plants and gardening, from reducing daily stress, to the natural filters that plants provide to your living space, and not to mention your own ability to harvest healthy food grown by you. Indoor vegetable gardening requires a certain level of investment, dedication, skill and a little luck; but with the proper guidance, space and time, you will be enjoying your own tasty vegetables, fresh from your own home, in no time!