Fabric Burner: A Superior Line of Fabric Pot with Value Added
Why the Fabric Burner?
Many hydro shops know all too well, that as customers grow operations increase in size so does the need to get their supplies at a lower price.
If you are looking for a more economic fabric pot without the compromises, look no further. Most hydro stores carry the big name brand pots and a few economically priced pots, but those cheaper ones are frequently made out of cheap material and end up causing more headaches for shop owners who's customers are not satisfied by the poor quality of cheap material.
No more compromises. We have the solution.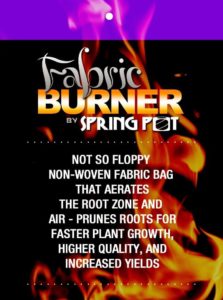 The new fabric burners are the one stop for all your needs. A high quality fabric pot with a great selling price. Spring Pot is a pots-only company that exclusively focuses on designing fabric pots to improve growing potential for gardeners. Because of that, they were able to design and produce a product that optimizes on efficiency without losing quality.
This is no cheap fabric pot. This is a high quality pot that competes with any leading brand.
Benefits of Fabric Burners
Selling Price
We can guarantee that our pot sells for less than any leading brand pot. Ass long as you meet our minimum requirements for shipping, you can save yourself a lot of money by getting yourself these pots.
Color Coding
How much time and money have you wasted from having to reorganize your shelves and deal with an upset customer who bought the wrong size pots? No more return or organizational issues with our color coded pots! All Burners come with a color code to specify the gallon size.
Handles
Transporting plants can cause a lot of harm to them, especially when dropped or tipped over. All burners over 3 gallons come with easy-to-hold handles that improve the ergonomics of moving your pots around.
Tags
The only thing that sucks more than filling in a pot with a paper cut is filling in a pot with a staple cut. Most pots have a staple tying the tag to the pot which can lead to some cut fingers. Our tags are all connected with a plastic tag, like you would find on a t-shirt. Easy to take off and cut-free.
High-quality Fabric
All our burners are made out of a high quality 270 gram/m2 fabric. The roots to your plants will seamlessly bind to the walls for the best air pruning possible. Better air pruning means better quality and bigger yields.
Vacuum Sealed
All our burners come in vacuum sealed packs. If you are a retailer looking to save space or just a grower with a full truck, don´t worry about your pots taking up to much space.