Exploring Hydroponic Growing Mediums: Alternatives to Rockwool, Fabric Pots, Coco Coir, and Vermiculite
Introduction to Hydroponic Growing Mediums

When it comes to hydroponic gardening, the hydroponic growing medium is a vital component in providing support and nutrition for plants to grow. Rockwool is a common choice for a hydroponic growing medium, but it can be quite expensive and not always the most environmentally friendly option.
Alternatives to Rockwool: Fabric Pots and Coco Coir
But, don't worry! There are plenty of alternatives to Rockwool, that can do the job just as well, if not better. One option that you may not have considered is using fabric pots, such as Spring Pots. These pots are made of a breathable fabric that allows for proper aeration and drainage, making them an ideal choice for hydroponics. Plus,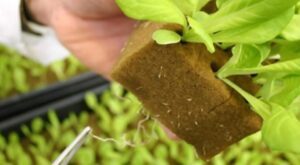 they're more affordable and eco-friendly than Rockwool.
Another alternative to Rockwool is coco coir. This hydroponic medium is made from coconut husks and is an excellent hydroponic growing medium. It provides good drainage and aeration, and it is also a renewable resource.
Vermiculite: Another Sustainable Option for Hydroponics
Vermiculite is another alternative hydroponic growing medium. It is a lightweight and porous mineral, making it perfect for hydroponics. It also holds water well, which is important for hydroponic gardening.
Conclusion: Finding the Best Medium for Hydroponics
When it comes to finding the best medium for hydroponics, it's worth considering all options. Spring Pots fabric pots, coco coir, and vermiculite are all great options to consider, and they can help you achieve the same results as Rockwool while being more affordable and environmentally friendly. Give them a try and see how they work for you!